Sex & Mayhem is a series of novels (M/M, F/F, and M/F) about members of outlaw biker gangs. The characters belong to various motorcycle clubs, but while the books are essentially standalones, some of the characters will have brief cameos in other novels.
---
ROAD OF NO RETURN – Hounds of Valhalla MC (M/M)
Zak. Tattoo artist. Independent. Doesn't do relationships.
Stitch. Outlaw biker. Deep in the closet. Doesn't share his property.
Tattooed all over, pierced, confident, and hot as hellfire, Zak makes Stitch throw his rules out the window. But as Stitch juggles family, club life, and crime, it's only a matter of time until it becomes too hard.
Contains: sex, explicit language, violence, and torture
---
THE DEVIL'S RIDE – Coffin Nails MC (M/M)
After a childhood filled with neglect and abuse, followed by his mother's suicide, Lucifer set out into the world alone. There was nothing for him out there other than taking it one day at a time. As the bastard son of the Coffin Nails club president, Lucifer never got much fatherly love. So when the Nails show up at the strip joint Lucifer works in, the last thing he expects is to be put in the custody of Tooth, the vice president famous for his gruesome interrogation techniques. The man proves to be the sexiest beast Lucifer has ever met. He's also older, straight, and an itch Luci can't ever scratch.
WARNING Contains adult content: a gritty storyline, sex, explicit language, violence and abuse. Inappropriate use of dental tools and milk.
---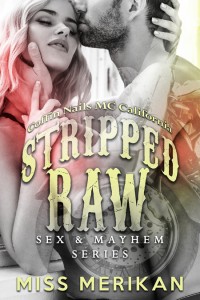 STRIPPED RAW – Coffin Nails MC California (M/F)
As a patched member of the Coffin Nails MC, Sam is finally living the life he was destined for. A life of Harleys, guns, drugs, and eating pussy. A life of brotherhood above all.
Jolie has a knack for baking delicious cakes, but when it comes to her taste in men, she is a self-professed failure. After a disastrous relationship, she is still picking up the pieces and working three jobs to manage the financial carnage her ex left her with. The last thing she needs is a hot piece of tattooed hunk stomping into her life. Sam, the sexy biker calls her 'Candy', but with a talent for being in the wrong place at the wrong time, Jolie should be called 'Trouble'.
---
No Matter What – Coffin Nails MC (M/M)
Ghost finds out the hard way that people you meet online aren't always who they seem to be. He believes Zara, a girl he met online is The One, and despite all his friends considering him crazy, Ghost is about to propose. But 'Zara' turns out to be Luca, and Luca is most definitely a guy. Yet Luca is the same person with big dark eyes, so desperate for help Ghost can't help but fall head first.
Luca's so-called boyfriend is not just abusive. He is a Sicilian drug lord, a man dangerous and ruthless. If Ghost is to ever save the person who wreaked havoc on his heart, he has to make a deal with the Coffin Nails MC. But being a member is a destiny he's always tried to avoid. And when a life of violence becomes too much to bear, he might be the one needing Luca to catch him when he falls.
---
Red Hot – Coffin Nails MC California (M/M)
Red Jack. Rude. Crude. Horny ginger mess. In love with… himself.
Loki. Deadbeat. Volatile. Stalker. Terminally ill. Fatally in love.
When it comes to men, Red Jack has three rules. The guy has to be hot, out of town, and not up for repeats. It's a good way to keep the gay flings far away from the eyes of his brothers in the Coffin Nails Motorcycle Club, and he will make damn sure it stays that way. When a hookup takes an ominous turn, and the sexy stranger turns up at his house, the heat is on. Loki invades his life and just won't leave, wreaking havoc wherever he follows Jack, but getting rid of him becomes harder with every kiss.
---
LOKI'S NEW JOB – a Red Hot Short Story (M/M)
Life hasn't been a bed of roses for Loki, and he is painfully aware that his idyllic relationship with Red Jack has to be tended to if it is to last. So when Jack starts disappearing for longer and longer each day, Loki is on edge. But when Jack comes home smelling of women's perfume, Loki knows it's time to act.
His man might be evading questions, but Loki will find out where Jack disappears to, and he will make sure everyone knows Jack is his and his only.
---
One Step Too Close – Coffin Nails MC Louisiana (M/M)
For Jed, the Coffin Nails Motorcycle Club is family. With them, he learned how to think, what to enjoy, and how to fight, but there is one thing he knows his friends can't find about. They would never accept him as gay, and so his life is a constant struggle with desires that fill him with despair. Only there is a much darker secret lurking in Jed's heart. His feelings for his stepbrother, Ryder, go far beyond brotherly. Trapped with a yearning that can never be fulfilled, Jed spirals out of control and unwillingly puts the love of his life in danger.
But finding out what they feel for each other might only put them on a path to destruction.
---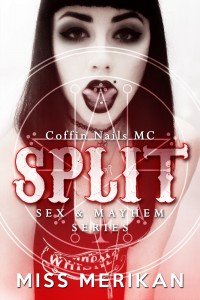 Split – Coffin Nails MC (M/F)
Hunter knew he was in deep shit when a patchover went sideways, ending up with his prez dead, and him and his cousin becoming live-in hostages at the Coffin Nails MC clubhouse. What he didn't know though, was that the girl he fucked just a few days before was the Coffin Nails club president's daughter, set on having nothing to do with him after a creepy one-night stand in an abandoned church. Tough luck, because Hunter is not a quitter, even if getting involved with the prez's hot daughter could get him killed.
Astaroth is devastated after losing the two people closest to her and believes that a ritual described in her late mother's notes might hold the key to bringing back the balance in her family. During the ceremony, she needs to get pregnant by the demon she summons, but why does he have to appear in the form of a handsome, long-haired, asshole of a biker, who just doesn't know when to give up? She never intended to see him again, but there he is, a new member of her dad's club.
---
His Favorite Color is Blood – Coffin Nails MC (M/M)
When a masked, bloodstained man rescues Misha from captivity, he doesn't know if he should thank the menacing stranger or run. Grim is not the kind of man who takes no for an answer, and Misha might now be in more danger than when he was trapped as a sex slave. Misha cannot deny though that Grim is as alluring as he is frightening, and once Misha realizes what power his body holds over Grim, he understands that taming the beast of a man could be within his reach.
But any possibility of a future together is like a house of cards when Zero, the sadistic crime lord who destroyed Misha's life, sets out to get him back. Will the ruthless biker assassin at Misha's side be enough to conquer the monsters from his past?
---
Heart Ripper – Coffin Nails MC (M/M)
David has always tried to be the best son his parents could dream of. Always at church on Sunday. Always eager to help with the garden. Always trying his best at school.
But deep inside of him, there is a yearning planted by the devil himself, and when a cocky, foul-mouthed biker pulls him a step too far, David doesn't fall into the abyss. He leaps.
Raja is all he's ever dreamed of, yet didn't dare voice. Older, dangerous, a wall of muscle with a grip so strong David can't resist him no matter how hard he tries.
---
Outlaw Girls – Smoke Valley MC (F/F)
Mona. Mafia princess. Runaway bride.
Rain. Motorcycle club president's daughter. Androgynous biker goddess.
Away from her controlling family, Mona intends to fight for her financial independence on the stripping pole at the Smoke Valley Motorcycle Club.
Rain doesn't usually do girlfriends, but when the mafia comes after Mona, Rain has to choose between loyalty to the club and the woman of her dreams. One thing is certain – there will be no escape without mayhem.
---
Straight as a Wheel – Smoke Valley MC (M/M)
Zolt. Gay. Player. Predator. Fetish: Straight guys
Leo. Straight. Biker. Prey. Fetish: True love
When it comes to men, Zolt loves the chase, and his favorite, most elusive prey is curious straight guys. He goes out of his way to seduce and devour them. If he can be their first, all the better. His next mark? A biker. And not just any. An outlaw, Leo Heller.
Leo's got his future all figured out. A wife, two to four kids, maybe a dog. If love was as easy as others make it seem, Leo would have been married already. But one kiss leads to another, lines blur, and before Leo knows it, he's in over his head. In love. Helpless.
---
Gutter Mind – Smoke Valley MC (M/M)
Mike. Macho Biker. Scarred. Will never love again.
Arden. Femme boy. Jaded. Will never succumb to lust again.
Mike is always on the lookout for a fresh fling, and there are more than enough chicks for a stud like him at the Smoke Valley MC clubhouse. But the pretty little thing he spots at the gas station turns out to be a boy, and that triggers all sorts of confusion.
Mike loves a challenge, so when he's given the cold shoulder, his predator senses are set aflame! Straight or not, Mike makes a bet with his cousin and won't settle for anything other than a total seduction of Arden.